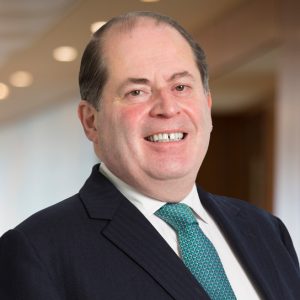 Kingswood announces that David Hudd, former Deputy CEO of Hogan Lovells, the international law firm, has joined as Legal Consultant
David brings almost 40 years of global legal and transactional experience
Kingswood Holdings Limited (AIM: KWG), the international, fully integrated wealth and investment management group, which currently has over 16,000 active clients and approximately £4.8 billion of Assets under Advice and Management, is pleased to announce that David Hudd has joined the executive team as Legal Consultant and will direct all legal affairs for Kingswood's expanding and acquisitive business on a global basis. David has served as a Non-Executive Director of Kingswood since June 2018.
Gary Wilder, Group CEO at Kingswood, commented: "I have known and worked with David for the last 32 years. He is an outstanding lawyer and pre-eminent in his field. I am delighted he is now in a position to join the executive team to lead our legal affairs and support us on our global journey. With the growth equity commitment by Pollen Street Capital, and following the rigorous repositioning programme now completed, Kingswood is in prime position to further capitalise on the numerous consolidation and acquisition opportunities available in the international wealth and investment management market. In addition to his sound commercial judgement, David will be a key player in assessing and structuring new opportunities."
David trained as a solicitor with Linklaters and after a successful career as an investment banker in structured finance joined Hogan Lovells, the international law firm, as a partner in 1994. He was consistently ranked as a market-leading lawyer for over 25 years. From 2005 David led the firm's global finance practice before assuming the role of Deputy CEO in 2014. He retired from this position and as a partner in June 2020 but continues to serve as Senior Counsel at Hogan Lovells. David earned his MA Jurisprudence (Oxon) in 1980 and qualified as a solicitor in 1983.
"I have got to know Kingswood and its team very well over recent years in my role as Non- Executive Director. I look forward to playing a greater role in the Group's business. Huge strides have been made by Gary and the team in expanding and reinforcing the Kingswood brand in the UK and I share the vision that the US is a really exciting market to support continued growth. A strong foundation is now in place to grow the platform and add value for shareholders and I look forward to further contributing to that value creation."

David Hudd